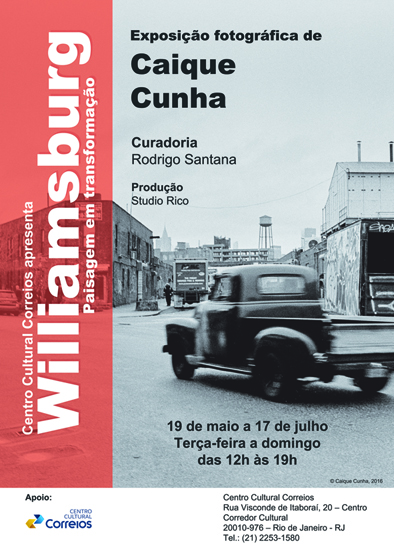 The landscapes of large urban centers are in constant transformation and in search of identity. Cities are structures that grow, resurrect and develop by creating new images and experiences capable withstanding the changes of costumes and traditions.
Caique Cunha runs through Williamsburg, a neighborhood in the New York City borough of Brooklyn, documenting the changes and diverse culture. His peculiar look exhibits expressive elements of a local transformation. Caique captures both visual and emotional images of what one experiences when the city is experiencing an unexpected rapid expansion in a process known as Gentrification.
The registration of a little explored region enhances the look and the relationships between space, time and its inhabitants. Key for the life of a city.
With frameworks that emphasize the disconnect between the local culture and the new structure, Caique tells stories, indifference, conflicts and complexity plans. The 26 images shown were captured and produced between 2013 and 2016. It proposes a captivating dialogue between analog, digital and instant photography.
Curated by Rodrigo Santana and produced by Studio Rico, this exhibition presents a visual overview of the human, architectural and urban landscapes in Williamsburg by introducing the discussion between the aesthetic ambitions of photography and its documentary function.
This collection was shown for the first time at the main hall of School of Visual Arts in New York City, throughout January 2016.
To book "Williamsburg" or for limited fine art prints, send request to info@caique-cunha.com
Dates:
2018 | TBI – TBI // Museu dos Correios // Brasília, DF / Brazil
2018 | March 29th – May 27th // Espaço Cultural dos Correios // Fortaleza, CE / Brazil
2018 | February 01st – March 3rd // Espaço Cultural dos Correios // Juiz de fora, MG / Brazil
2017-2018 | November 11th – January 07th // Centro Cultural dos Correios // São Paulo, SP / Brazil
2017 | August 17th – September 22th // Casarão 34 // João Pessoa, PB / Brazil
2017 | July 22nd – July 29th // Casa Galeria Galpão // 27 Festival de Inverno de Garanhuns // Garanhuns, PE / Brazil
2016 | July 30th – September 10th // Palácio dos Correios // Niterói, RJ / Brazil
2016 | May 18th – July 24th // Centro Cultural Correios // Rio de Janeiro, RJ / Brazil
2016 | January 04th – January 29th // School of Visual Arts // New York, NY / USA

Awards:
2016 | Nominee Award for "Williamsburg" series – By Photogrvphy Grant 2016
Press release
All Rights Reserved